Moderator: AdminGroup
---
I purchased a Gladiator mk II to use with the VKBsim SCG LeftHand grip I purchased
only to find when it arrived it was a std not pro version and had a fixed grip....
you can imagine how disappointed I was

I then found the upgrade kit online, but to my despair there are none available.....
given that you are out of stock an apparently aren't likely to produce any of these
could I possibly obtain the dimensions for this part to have one machined

thanks in advance
---
Gadget.
If you don't get the needed technical drawings for machine an adapter, an option:
First, installing (the non available yet) "X upgrade" that allow Gladiator Mk.II "vanilla" use removable grips (SCG Kosmosima, MCG) remove Gladiator twist rudder.
So easy (and probable cheap) way to install SCG Kosmosima grip in Gladiator Mk.II "vanilla" is 3D print a simple one.
Open SCG Kosmosima grip, measure the piece that fit the 3 pin connector to grip shells, but ignore the 3 pin connector part, measure only the pole above and the fixation tabs, see highlight in this picture: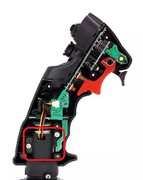 Then draw this piece in CAD software adding a section for fit over Gladiator pole, similar to this "Thrustmaster FCS/TopGun B8 grip adapter for MS FFB2 base", and 3D print.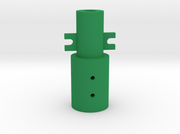 https://www.shapeways.com/product/4TKNS ... d=63516898
Cut the 3 wires of the cable that goes for the 3 pins connector (visible in picture above) - or use a new cable with compatible connector (probable JS3) and replace the original piece inside SCG Kosmosima with this new 3D printed piece and fit over Gladiator pole, solder the 3 wires or use an small male/female 3 pin connector.
EIDT _ Looks that is not need cut, neither replace seems Gladiator base cable use the same connector:
Mechanically the installation is done and is reversible, if want return SFG Kosmosima for their original form, for example for use in Gunfighter base, just need solder the 3 wires case cut instead use new cable.
But for your new joystick work
you need a new firmware for Gladiator Mk.II "vanilla" with support for SGC Kosmosima grip
, don't know if VKB made this available, so check this before start.

BTW - Having success announce the removed KG-12A grip of Gladiator in Combat Flight Simulator(e.g. IL-2) forums, some guys want this "lookalike" Luftwaffe grip for use in Warghog or VirPil bases (what require redo their internal wiring for CD4021 Shift Register).
---
Few X upgrade kit available for Gladiator Mk.II in VKB Sim on Aliexpress:

https://ru.aliexpress.com/item/40001013 ... 2108D6QY3p
But shipping only for some world regions (probable CIS).

---
Urg, Aarrgh! They will not ship to US.

Is Rainer (VKB N.A.) going to get any of these?
---
---
Yessir! My order has already been placed! I hope this thing is all I want it to be (ordered an SCG premium grip to go with the kit).

EDIT: Sokol, thx for the youtube video you did as well (pretty sure that is you, yes?)!
---
---
Yah, sorry Fallout9/Tarapatraptar (youtube poster of video). I thought it was you Sokol but you made a comment, not the video. Nice to have the link here.
---
No worries, made the video not for fame but to present an excellent device to the community. I've tested it for a while with the Kosmosima and the only issue I've had is that the duo has so many buttons I couldn't use them all

)
---
---
Return to "Official announcements"
Who is online
Users browsing this forum: No registered users and 1 guest